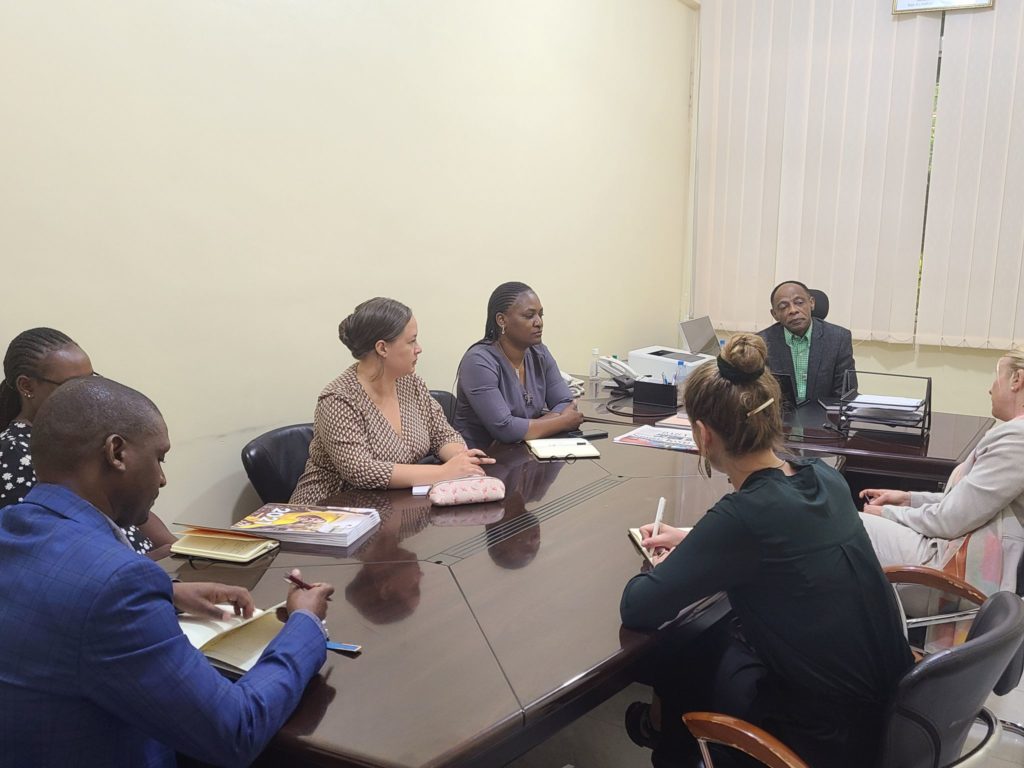 Aug. 9, 2023

Eng. Kelvin George
Introduction: In a significant step towards fostering global cooperation and driving innovation in the fields of health and education, the Muhimbili University of Health and Allied Sciences (MUHAS) proudly announces its partnership with the esteemed Mälardalen University (MDU) in Sweden and LM International. This collaboration is poised to bring about groundbreaking advancements in digital transformation, digital inclusion, and innovation within the realms of healthcare and education.
Key Participants and Fruitful Discussions: On the noteworthy date of June 6th, 2022, MUHAS welcomed a distinguished delegation from LM International, marking a momentous occasion that marked the beginning of a promising journey. Leading this delegation was Dr. Josephine Sundqvist, the Secretary-General of LM International, along with Ms. Gloria Mafole, the dedicated Country Director in Tanzania, and their esteemed team. The discussions held during this visit were both insightful and productive, setting the tone for a partnership brimming with potential.
Acknowledging Excellence: MUHAS extends its heartfelt gratitude to Prof. Sarah Wamala Andersson for her unwavering mentorship and active engagement in this collaborative endeavor. Her expertise and dedication continue to be instrumental in propelling this partnership forward.
Key Areas of Focus: The collaboration between MUHAS, MDU, and LM International will concentrate on several key areas of mutual benefit:
Digital Transformation: Leveraging the power of technology to revolutionize healthcare and education systems, enabling more efficient processes, data-driven insights, and improved patient care and learning outcomes.

Digital Inclusion: Ensuring that advancements in digital technology reach all segments of society, especially underserved communities, fostering equal access to essential resources and opportunities.

Innovation in Health and Education: The partnership aims to drive innovation by fostering a dynamic exchange of ideas, research, and best practices between the institutions, resulting in pioneering solutions and approaches in the fields of health and education.
Promising Recommendations: The discussions held during the delegation's visit have laid the groundwork for a range of promising recommendations, which include:
Establishing joint research initiatives that harness the expertise of both institutions to tackle pressing challenges in healthcare and education.
Developing collaborative projects that leverage digital tools and technologies to enhance the quality and accessibility of medical services and educational resources.
Organizing symposiums, workshops, and conferences that facilitate knowledge sharing and foster a vibrant community of researchers, practitioners, and educators.
Conclusion: The partnership between MUHAS, MDU, and LM International represents an exciting and transformative alliance that is set to shape the future of healthcare and education. With a shared vision of harnessing digital innovation for the greater good, this collaboration holds immense potential to create lasting impacts on a global scale. As the journey unfolds, we eagerly anticipate the innovative breakthroughs and meaningful changes that this partnership will bring about.